Ruark MRx Wireless Speaker
SKU: RAMRXW
Regular price
$699.00 USD
Product details
Ruark MRx Wireless Speaker
Ruark MRx wireless speaker operates on wifi or Bluetooth. MRx is the perfect system for your lounge, kitchen or study and can be linked with Ruark R5 and R7 models for an easy-to-build wireless multi-room system.
STREAMING HEAVEN
MRx has been built for wireless streaming and offers a fantastic choice of options. For direct streaming, its Bluetooth receiver allows quick and easy connection and with aptX technology, you will enjoy CD-quality sound from compatible devices. With a broadband internet connection, MRx comes alive and allows access to internet radio and an almost infinite library of music through online services such as Spotify, Deezer and Tidal, with Amazon Music also coming soon. Moreover, you can also stream music stored on other networked computers and also from your phone.
HIGH-FIDELITY PERFORMANCE
Specifically for MRx, we have developed new speaker units based on the driver technology from our award-winning MR1. A new cone and coil assembly coupled with the powerful neodymium magnet system provides a full-range driver with unrivalled performance. These drivers are mounted as a stereo pair into tuned bass reflex enclosures and powered by a high-fidelity two-channel Class A-B amplifier. Using the latest sound processing technology, we have further tuned the sound and have created a stereo soundstage that belies the MRx compact dimensions.
EASY TO CONTROL
Our stylish controller located on the front of MRx allows volume and source to be easily changed, but for full remote control, we have a dedicated app for iOS and Android devices called UNDOK. This allows full control of all MRx functions and also displays information on the source material being played. The link also allows users to create and manage groups when two or more MRx units are being used together as part of a multi-room system. R2 Mk3, R5 and R7 Mk3 are also compatible with MRx and can also be controlled with the Ruark Link app.
WORLD RADIO
With an internet radio tuner built-in, MRx gives you virtually unlimited access to radio stations at home and abroad. If you're living away from home, you can stay connected with your favourite stations through the wonders of internet radio and if you love country or jazz then you can search worldwide by musical genre to find stations that specialize in the type of music you love. MRx also allows you to access radio podcasts and catch-up services, notable programmes from the BBC, so if you ever miss a show you can catch up at your leisure.
HIGH-QUALITY BLUETOOTH
For a quick and easy connection without the need for wi-fi, MRx has a high-performance aptX Bluetooth receiver so you can directly stream from compatible devices to MRx with CD-quality sound. An increasing number of Smartphones and other devices have aptX technology built-in, but with or without, sound quality over Bluetooth with MRx is remarkable.
WIRED CONNECTIVITY TOO
Alongside its wireless connectivity, MRx also has great direct connectivity, with a combined line-in and digital optical input allowing auxiliary devices such as a turntable, Amazon Dot, Google Chromecast or Apple AirPort Express to be easily connected. Also featured is a USB playback port which allows you to conveniently playback music stored on a memory stick or portable hard drive in a variety of popular audio codecs. Furthermore, all these inputs are multi-room enabled, so if desired can be streamed wirelessly to other MRx or R3 and R7 models.
ETHERNET CONNECTION
MRx has been designed for wireless connectivity, but also we've included an ethernet socket so MRx can be wired to a network if required. A wired ethernet connection ensures reliability in playback and can also prove useful if you want to use MRx where the wi-fi signal from your home router is variable or weak. In this case, ethernet power-line adaptors can be used and provide an easy-to-use solution to resolve network problems.
MULTI-ROOM READY
With its 'multi-room' capabilities you can wirelessly link and sync MRx with additional MRx or our R3 and R5 models, so you can distribute music all around your home. Set-up and control of multi-room configuration and groups are easy to perform on our custom app for iOS and Android devices called UNDOK. This allows control of each device in the group, so volume etc. can be set to your liking.
PERFECT SOUND
MRx features a linear Class A-B amplifier with a quality switch mode power supply. Linear amplifiers are used in the world's best audio equipment and in our opinion still offer superior performance when compared to new-style digital amplifiers, which often sound unrefined comparison. Alongside our new custom drive units, linear amplification is another reason why MRx sounds so good.
FLEXIBLE USAGE
We've designed MRx so it can be used in both landscape and portrait orientation and have included threaded inserts on the rear so it can also be wall mounted if required. In addition, a selector switch allows MRx to be used singly or with two units a stereo pair can be created. However you use MRx, its beautiful design makes it a focal point which will enhance your surroundings and life.
WIRELESS MUSIC ACCESS
MRx allows you to wirelessly access music stored on computers and NAS drives connected to your home network. This makes MRx ideal if you like to download music or record and store your CDs on one central device. It supports a variety of popular audio codecs including WAV, WMA, AAC, FLAC and MP3. Please note that audio streaming over a network requires a NAS drive or PC/Mac running DLNA-certified software with sharing enabled.
BEAUTIFUL TO HEAR AND BEHOLD
MRx is crafted from select materials which we know from our years spent designing High-Fidelity loudspeakers, to provide the best sound. Additionally, we understand aesthetics and how the combination of our hand-finished cabinets, controller, alloy stand and British-sourced fabric front create something special. Its beauty lies in its simplicity; not just in its ease of use, but in its sophisticated, timeless design.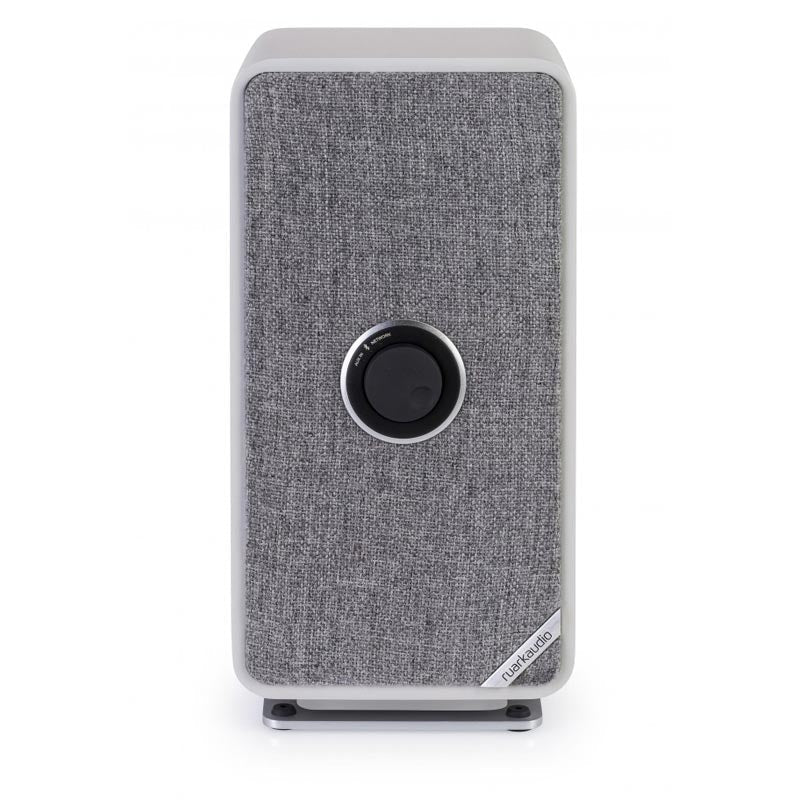 Listing
Vendor: Ruark Audio
Product title: Ruark MRx Wireless Speaker